50 IS THE NEW 50 (is it?)
Fifty isn't when things stop.  It's when good things start.  But I've thought about this post on and off for a couple of weeks – from a beauty angle, a society angle, a human angle, the media angle – and what seems to have risen to the top is the fact that at the end of the day it's surely more about living than ageing.  Living well, being well.
(And breaking the rules – yes why do so many French women all chop their hair short the minute they reach "un certain age"? It's like some kind of hair follicle uniform.)
The thing is, you can be 35 and semi-alive or 75 and living life to the full.
"Feeling well is something I truly value, because it's not a given.  A lot of people wake up in the morning and they don't feel good"
– Elle MacPherson
A lot of it depends on the choices you've made in past decades, and fate plays a part, too but I suppose if I had to pin it down to one beauty secret, I'd say a sense of wonder and nurturing your inner child would be top of my shortlist before any products even come into it. If you don't have a sparkle in your eye (you're a dead fish).
"We could not act our age if we did not know our age…we live in the biochemistry of our bodies, not in years…and not in a series of decades marked by periodic lurches of change"
 – Dr. Sherwin B. Nuland "The Art of Ageing: A Doctor's Prescription for Wellbeing"
George Clooney has it, Richard Gere has it, so does Hugh Jackman…not just those insanely good luck looks, but that sense of wonder, playfulness.
"Smile, we're all gonna die" as Moroccan musician Ahmed Soultan so aptly put it during our MEN WE LOVE interview with him last week. Goldie Hawn, Joan Collins and Judi Dench have it, too.
You can live smiling or you can live crying but the past will write its story all over your face in permanent ink as the years flow by.
Making others happier, accepting what life chucks your way (including what you can control, and what you can't) as well as kindness we could add to the non-product beauty secrets list. A sense of wonder and encouraging your inner child, these things are free and keep us free.  I really believe that these "attitudes" enhance us.
"Your 40s are good. Your 50s are great. Your 60s are fab. And 70 is f…..g awesome"
– Helen Mirren
"Uh! The minute I turned 50 I became invisible" a woman said to me as bikini season was just kicking off.  "Everything starts breaking down when you hit 50!" says a friend.  Another friend asked for "no birthday cards please" because she didn't want to be reminded of that (daunting?) five-ohhh milestone but, like a Ford Mustang on a desert highway, we keep going till the end of the road so the more we enjoy the scenery, and the actual drive, the merrier. We're on a road we can't get off, so why not just enjoy the ride?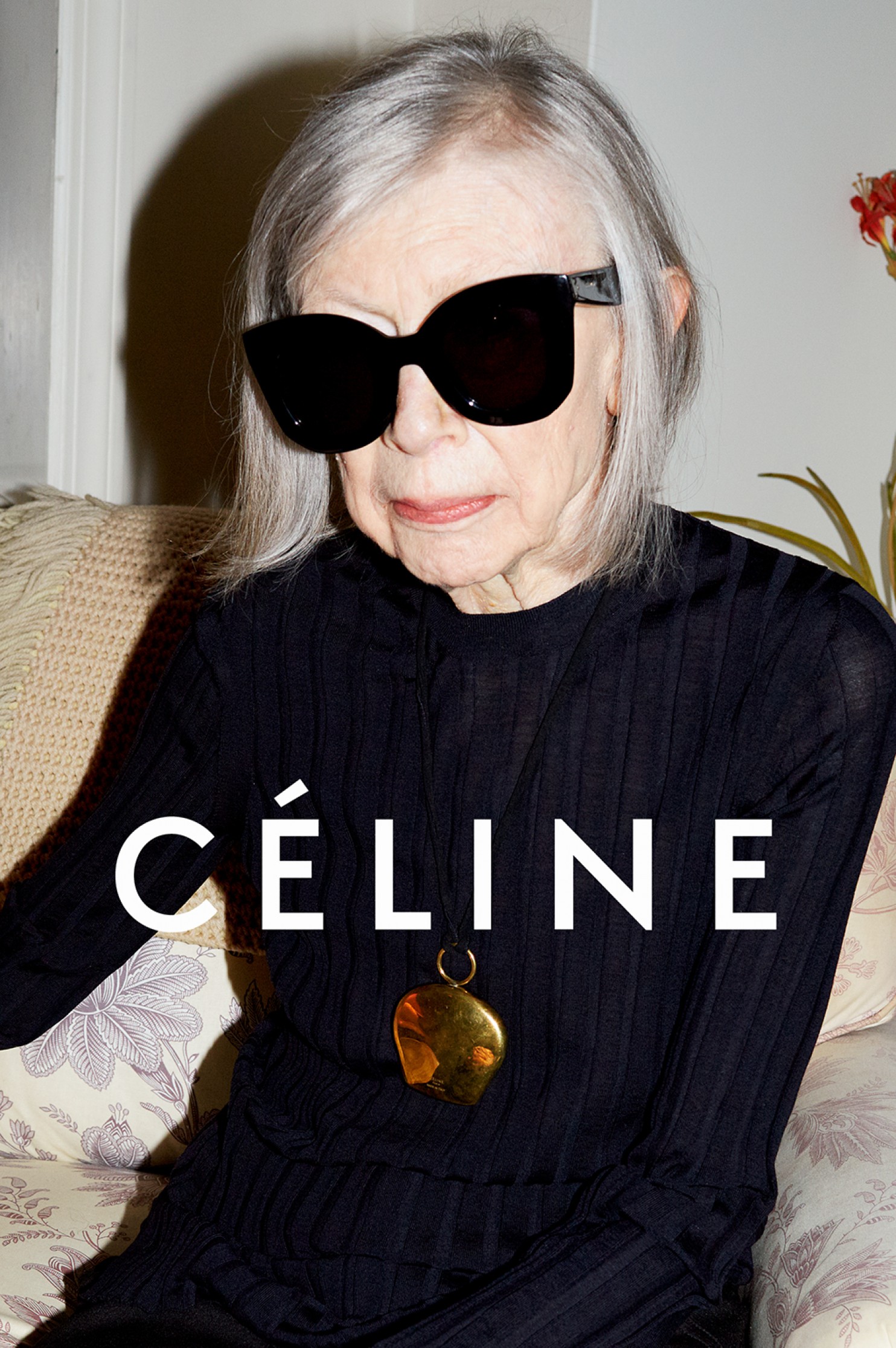 The fact is, women who are 50 and over (older men have never had the same degree of challenging "issues" to deal with in the media, workplace or in movies) have never been more "in".  The world's top brands, from L'Oreal (Helen Mirren and Jane Fonda) to NARS (Charlotte Rampling) are splashing older faces on covers while Joan Didion, at 80, became the face of Celine recently (see "The Latest In The Triumph Of The Smart Girls" in The Washington Post)
"Actually, aging, after 50, is an exciting new period; it is another country.  I like it.  It's another stage of life after you're finished with this crazy female role"
– Gloria Steinem
Being 50 now is a far cry from being 50 in the fifties.  Elle MacPherson turned 50 last year, when she launched her new supergreens formula The Super Elixir (which by the way is excellent). Christie Brinkley, 61, Cindy Crawford, 49 and Dallas star Linda Gray, who turned 75 yesterday, all have new books out soon which reflect on where they're at now and what's important in life. A is for ATTITUDE. F is for FREEDOM. You can create your own rules at any age.  Just look at Joan Collins and Vivienne Westwood. And D is for DON'T CARE WHAT PEOPLE THINK ANY MORE.
This year's rock star, Meryl Streep  #sexyatsixtysix
This month, Meryl Streep is rocking our world at an exquisite 66 (even though as she points out good roles for older actresses are a big issue in the film industry, something that needs to change FAST. Luckily, TV is better).
"I'm excited about life every day. The minute my feet touch the ground in the morning,
I say, 'Thank you"
– Linda Gray
Linda's book "The Road To Happiness Is Always Under Construction" is out this month
If you've ever felt invisible at 50+ (or do right now) the good news is:
(a) you're not alone, because 50% of Britain's population will be 50 or over in five years' time, but more importantly;
(b) the new wave of older models is still on the rise, and on your side. I've always felt that when we start saying "she looks great" without the "…for her age" appendage, that's when our reality will become truly ageless.
Age and beauty are lifetime partners. You're beautiful at any age – if you feel it.
We're young whatever our "official" age is, if we live life to the full.
"How you decide to live your life has so much more relevance then what age you happen to be and remember, anything is possible" 
 – Debbie Rowe, author of 50 Over 50 – Extraordinary Women, Extraordinary Lives
IS 50 THE NEW 50?
We asked…
Beauty expert Jane Scrivner founder of
"I'm a little cross with myself for not wanting to be in my 50's, because the reality is, our 50's deal the power card, the driving seat and the confidence zone.  By 50 our 'dependants' have become more independent, giving us the slot to be ourselves, our 50's gift us experience to own who we are and do more of what we are. Beauty is so much more than skin deep, and 50 is the time we live this reality.  And if the future looks a bit like Beatrix Ost, Carmen dell Orefice and Edith Apfel, then I'm thinking, the future looks truly beauty full."
Imogen Matthews, beauty industry commentator and premium brands expert
"It's very good news that beauty brands are starting to use age-appropriate models in their advertising, but this is just the tip of the iceberg. We've found in research for Older Women in Beauty: the Golden Opportunity, that the majority of skincare brands continue to use negative skincare terminology such as anti-ageing, anti-wrinkle, skin correction, despite the fact that women over 50 find such claims unbelievable and unachievable.
After all, a woman who has used skincare all her life and is noticing that her jawline is no longer as defined as it once was and that she has wrinkles is unlikely to put her faith in such unrealistic claims. Instead, she wants products that make her skin look healthy, glowing and great for her age. Much of this is down to the wording and claims on pack.
The industry needs to move away from anti- this and anti-that and focus on all the positives of ageing, which include well-being and skin health.  Up and coming brands who are already doing this well include Deciem with Hylamide and the Mio Fit Skin for Life range. It'll take a while for the bigger companies to catch up with this change, but with women over 50 now in the majority, it is a demographic they can ill afford to ignore."
Debbie Rowe, author of 50 over 50 – Extraordinary Women, Extraordinary Lives
"How you decide to live your life has so much more relevance then what age you happen to be and remember, anything is possible"
Victoria Waite, ARK Skincare www.arkskincare.com 
This age-targeted brand for women in their teens and 20s, 30s to 40s, and 50s onwards is also a multiple Beauty Shortlist Awards winner
'Being age aware not anti-ageing, our ethos has always been about embracing natural beauty for beautiful skin at every age. This is something we constantly see from our customers over 50; they want to look radiant,
healthy and beautiful. Our Age Defy range has been designed especially for women aged 50 and onwards, and focuses on brightening, nourishing and firming the skin. The Age Defy products use Hyaluronic Acid, plumping
peptides and herbal ingredients with skin-brightening properties.
We are seeing a big trend in multi-purpose products as women over 50 are busier than ever. Many don't have room in their lives for time-consuming skincare regimes. Regenerating Skin Defence is a best-seller as it fades
pigmentation, blurs wrinkles and locks in moisture. Serums are also important as women over 50 are savvier than ever about effective products. The ARK Firming Serum uses low weight Hyaluronic Acid to plump and quench
the deeper layers of skin, where it is most effective.'
Rebecca Valentine, founder, Grey Model Agency
"I feel the older generation are held up as curiosities by major labels who are jumping on the current band-wagon for grey being the new black. In fact Grey is the new Grey, the diversity amongst the over 50's has been expanding over the past three decades as peoples' choices, their understanding of business, politics and popular culture has increased. It is time now for the experience and diversity to be recognised and harnessed; for us to look beyond the silver and wrinkles to a life lived, enjoyed and savoured. The beautifully-ageing are the embodiment of that choice of lifestyle. I disagree that the 'invisibility' is within. It is a fact that marketing ignores the 50+ age group which is why Grey Model Agency is of so much interest now. What we are witnessing is a backlash because 50+ are feeling invisible and are now demanding to be seen."
And this is what another Beauty Shortlist Awards winner, Forme Labs' menopause-age targeted premium skincare brand Stratum C www.stratumc.com had to say:
"Recent trend reports show that women are moving away from this unrealistic idea of 'the fountain of youth' and moving towards embracing the ageing process. Certain terms, such as 'anti-ageing', are no longer favoured by shoppers. Many companies, including Stratum C, are moving away from this idea of forever young and tailoring products to suit the needs of the 50+ market.
"Recent trend reports show that women are moving away from this unrealistic idea of 'the fountain of youth' and moving towards embracing the ageing process" – Stratum C
Women should be considered beautiful at any age and being 50 should not be treated like it is the new 30, because it is 50 and that is not a bad thing!
It is not about how well you age, it is about how you maintain your health and mostly about how you feel. You don't need to apply the term 'youth' to live a life of vitality and your beauty products should be designed to suit you, not the other way around."
What's your take?
Are you heading towards 50 and semi-dreading it, or are you well past 50 and loving (or perhaps contentedly accepting) being your age? What do you like, or not love so much about hitting 50-ish?
Why do you think there aren't more beauty brands catering to a demographic that has such strong spending power?
(I think this lack of targeting could change pretty quickly in the next couple of years as the brands catch up with the luxe brand advertisers keep bringing us more Helen Mirren-style beauty icons as the smart, sexy, more mature face of their products).
We all age differently and have such different lives, so it would be great to hear your comments. How do you feel about getting older and hitting a "big" milestone like 40, 50 or 60?
Share your thoughts on Twitter, Facebook, Instagram or leave your comments below.
TWITTER/INSTAGRAM @BeautyShortlist
FACEBOOK.COM/BeautyShortlistUK
"In my fifties, I feel ripely quiet.  Life seems simpler; I am more appreciative.  More of life seems funny to me, humorous and light.  I consistently have a good time.  It hasn't always been like that" – Ruth Zaporah
6 responses to "50 IS THE NEW 50 (is it?)"