SNUGGLE UP! 9 OF THE NEW SEASON'S COSIEST WINTER WARMERS
Dark sky, chilly night, staying in? We're in!
Keeping cosy is the name of the game this weekend, so sink into the sofa with a Spanish style hot chocolate…here's our snuggle-up shortlist of winter warmers…
THE WARM-YOU-UP BATH OIL
Long commute home after a totally "aargh!" week?
Warm your muscles and revive your mind with Tisserand's Eucalyptus, Clove and Rosemary blend Winter Warming Bath Oil £10.95
THE WEEKEND-IN BEAUTY RITUALS SET
Mauli Rituals Revive The Senses Set £26
We love the hair oil and the radiance exfoliant is fab – you mix the natural grains with your favourite cleanser (brilliant for travel if you don't want to lug around a whole bottle of exfoliator).  Haven't tried Mauli yet but tempted to dip in?  5 Mauli minis and a pure muslin cloth.
1 x 60g Himalayan Healing Salts
1 x 5ml Grow Strong Hair Oil
1 x 3g Radiance Exfoliant
1 x 5ml Sacred Union Skin & Hair Dry Oil
1 x 0.5ml W Pure Perfume Oil
1 x Pure Muslin Cloth
THE I-NEED-SUNS SET
Six citrus/life-you-up heroes by Weleda for people who don't do winter £55
THE AFTER-BATH EVERYTHING OIL
Caudalie's Hair, Face and Body Huile Divine gets a Christmassy mini-twist.
15ml ltd. edition bauble gift £8
THE YOUR-BEST-DEFENCE CLEANSING OIL £11.50
Neals Yard Remedies' Aromatherapy Blend Organic Defence Oil
With lemongrass, thyme, lavender and more, to purify everything from work surfaces (with cloth) to the air (as a vaporiser) and help stop that cold you feel coming on.
THE HIT-THE-SNOOZE-BUTTON BALM 
Aromatherapy Associates' "sleep well" Deep Relax Balm.  One pot will see you through from now till Christmas. £19
THE OVERNIGHT-SPA-FOR-YOUR-FACE WINTER WONDER
ARK SKINCARE's HYDRATION INJECTION MASQUE £35
Oof this is good! Suitable for all ages (leave on for a few mins or longer, or overnight as a really intensive treatment) and, may we say, pretty miraculous if you're 45 or over?
One of our best skincare discoveries of the year – try it.
THE CHILL-BY-THE-FIRESIDE PJ BOTTOMS
Aka the snuggle-up splurge, in pure cashmere and £99 at M&S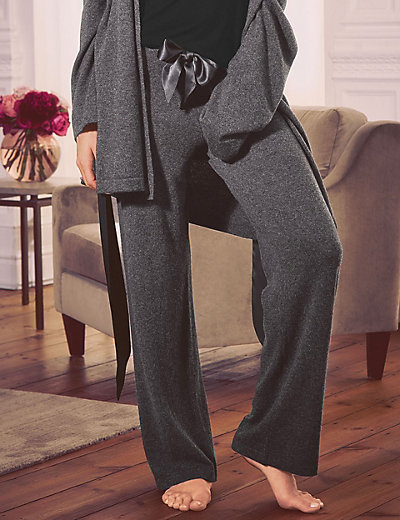 THE WOODLAND WALK ON A CRISP WINTER'S DAY CANDLE
For people who don't do "just any candle". Evergreen is London brand Birch and Brook's Winter 2015 Limited Edition candle and features green top notes of fir balsam, crushed pine layered with a warm, woody base of cedar, musk and amber. Burn time 40 hrs £38. 
One response to "SNUGGLE UP! 9 OF THE NEW SEASON'S COSIEST WINTER WARMERS"