3 REASONS TO LOVE KAHINA GIVING BEAUTY
Kahina – which means "the diviner or the fortune-teller" – was the name given to 7th-century Berber queen Dihya. She not only resisted the Arab expansion into North Africa, she could also predict the future, the Arabs believed. She was a warrior and a force to be reckoned with!
Kahina Giving Beauty www.kahina-givingbeauty.com is one the most unique argan beauty brands in the world for a number of reasons.
Arguably the most unique argan-inspired beauty brand in the world, Kahina gives back 25% of profits after operating expenses to the Moroccan Berber women who produce the argan oil 
Kahina CEO Katharine L'Heureux is a change-maker and a committed supporter of the Berber women in Morocco who produce the precious golden argan oil for Kahina's range.
Kahina is one of Being Content's latest launches
3 REASONS TO LOVE KAHINA
We could list more, but 3 big reasons we love Kahina are:
(1) She gives back 25% of profits after operating expenses to the Moroccan Berber women who produce her top grade fair-traded argan oil. In a world where giving back 10% is seen as generous, giving a quarter  back is exceptional.
(2) Every Kahina creation is luxe, gorgeous to use and intelligently formulated, combining the beautifying formulas of argan with other oils and ingredients to super-charge the formulas.
(3) The argan oil Katharine's Berber women workers produce is the highest, purest grade organic oil possible and processed in a way that guards its skin-boosting nutrients. Kahina's products all come from organic farming sources and are certified Fairtrade and Organic by ECOCERT.
NEW: Two of Kahina's latest launches, the FEZ BODY SERUM and FEZ BODY BALM and a gorgeous trio of Morocco countryside-inspired Kahina soaps almost too beautiful to unwrap
Two of Morocco's most unique cities – Fez and Essaouira – are the inspiration for her latest collections and today our Maroc Week inspiration is FEZ.
First up, and it's the very latest launch by Kahina:
NEW: FEZ PERFUME OIL
Katharine's gorgeous, just-launched Fez Perfume Oil is an homage in a bottle to the scents and spirit of Morocco's sacred imperial city.  Fez is the host of the annual Sacred Music Festival (check the dates for 2016, because this is a festival not to be missed!)
Sensual in the way only Morocco can be, the new FEZ PERFUME OIL features a steel roller ball applicator – no risk of handbag spillage, so it's easy to apply on-the-go.
FEZ Perfume Oil: The Scent Notes
Tantalizing rose and orange blossom notes are layered with the scents of antiquity; patchouli, vetiver and ylang-ylang with lingering hints of cumin and clove from the spice market – and a little grapefruit to lighten it up.
FEZ's ethereal but lasting fragrance is an earthy, warm blend to calm the senses and ground the spirit.
Kahina's new sensory elixir, FEZ Huile de Parfum
Take a little trip…My Winter Weekend in Fez
One of my first ever visits to Morocco was to Fez, one freezing February many years ago. I left the UK frozen in the grip of winter and arrived in another world – Fez,  bursting with early spring sunshine and 1001 yellow, purple and orange wildflowers. I landed at Fes-Saiss just around sunset, the little airport glowing in the pink evening sun. Arriving at Riad Ksar de Fes, the country riad I'd booked (it's just 15 minutes from the airport), the sky had turned a velvety dark blue/black, sprinkled with silver stars. Greeted by a long driveway lit by glowing lanterns and tall terracotta pots, I couldn't wait for the sun to rise the next day so I could see what the scenery looked like.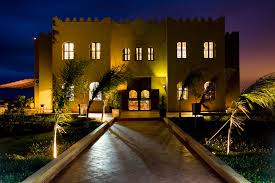 Riad Ksar de Fes, 15 mins from Fes-Saiss airport
Waking up to chirping birds and a long breakfast of orange juice and crisp "msemen" pancakes by the palm-dotted pool in a garden of lemon trees and lavender bushes, it was one of those "I could live like this!" moments. (Winter in Fez can get nippy though, so if it's real winter warmth you're after, Essaouira, Agadir or Marrakech are safer bets – or head for the towns around the Sahara like Ouarzazate, Zagora or Merzouga where days are dry and sunny but temperatures can drop dramatically at night).
Halfway through my second pancake, I think that was the moment I fell in love with this warm country (as in people, welcome and daily average temperatures.) Two days later and a 45 minute drive up into the mountains, I was sipping a café au lait in sunny but crisp Ifrane, one of Morocco's ski resorts (great place to visit – highly recommend it!)
Breakfast on the terrace at Riad Ksar de Fes under the bluest February sky
Sun, ski, surf, golf, mountains, beach, desert, palm groves…Morocco's geographical diversity is just extraordinary.
But back to beauty…
FEZ BODY SERUM – WINNER, Best Eco Product, 2014 Swedish Beauty & Cosmetics Awards
Body Serums are going to be big news in the next few years, and Kahina's FEZ BODY SERUM is about as luxe as they get.
 Argan, watermelon, olive and coconut oils, the blend for Kahina's Fez Body Serum
Mysterious, sensual and exotic, this serum is super-rich in argan oil which (like rosehip) is one of the top beauty oils for soothing, healing and feeding skin. It's a great oil for helping keep skin more elastic and can help with scars. Argan is one of those brilliant multi-taskers for your face, nails, hair and babies and has a little bit of built-in SPF, too (not much but better than nothing).
Katharine blended a special cocktail of oils to create her FEZ BODY SERUM to add a super-charging effect for velvety skin, so as well as argan, there's:
Watermelon Seed
Sunflower
Olive (Morocco produces fantastic olive oil. I'm a Greek olive oil fan and one of the best I've ever tasted was a local olive oil which I bought from an argan co-op on the road out of Essaouira – I wanted to see kahow it would compare and it was excellent
And the "huile du jour" at the moment, Coconut
FEZ BODY SERUM's scent notes were blended to help relieve stress, stimulate circulation and calm nerves.  Earthy, warm notes calm the senses and uplift the spirit and a little goes a long way, so you can savour it to the very last drop.
Scent Notes
Rose and orange blossoms play with citrus notes layered over the scents of antiquity: patchouli, sandalwood and ylang ylang along with lingering hints of cumin and clove from the spice market.
FEZ Body Serum £85/200ml at Content Beauty  www.beingcontent.com
FEZ HAND AND BODY BALM
I think, if I had to pick just one product, then an exceptionally good "do everything" beauty balm would be my desert island beauty hero. I go through pots of my favourite balms each year – for my face, nails, rough patches, hands, elbows, heels, lips…
Kahina's Moroccan multi-tasker, FEZ Hand and Body Balm
with argan, carrot seed oil, shea butter, coconut, olive and mango nut butter to ward off signs of dryness and comfort colder weather skin
There's nothing like a seriously moisturising skin soother, and when I travel it's always a balm that makes it into my airport-friendly plastic handluggage bag first, before I start adding a couple of other cannot-travel-withouts.
Rich enough for severely dry, chapped skin, nourishing, healing and soothing enough to deal with irritations, the FEZ HAND AND BODY BALM features a line-up of highly concentrated argan, carrot seed oil, shea butter, coconut and olive oil and mango nut butter. Dry skin doesn't have a chance!
Plant butters and beeswax multi-task to prevent dehydration, promote suppleness, and the balm is scented with Kahina's signature Fez blend of aromas, too, which aid in relieving stress and calming the nerves.
Winter on the way means central heating, and drying central heating can pretty much suck the life out of skin, especially if it already veers towards dry, so this is exactly the kind of ultra-concentrated balm to add to your beauty arsenal for these chillier months!
You can find Kahina's FEZ Hand and Body Balm (£35) at Content Beauty – read more/buy HERE
THE KAHINA GIVING BEAUTY DIFFERENCE…not all argan oil is created equally!
As Katharine points out, the quality of argan oil can vary significantly.
There are varying qualities of cosmetic argan oil on the market, as evidenced by the wildly differing prices of oil currently for sale. So why is this?
"The most important factor in determining argan oil quality is the "goat factor"," she explains.
"The argan nut is a hard almond-like seed, encased in an external shell and a fruity outside pulp. The nuts that are gathered for oil must have the exterior pulp intact. If there is no pulp, it means that the nut has been eaten and digested by a goat (goats love to eat the nuts) imparting a foul smell to the oil.
Often, these "goat nuts" will be sold at a low price and then the oil will be deodorized, a process that destroys the essential nutrients in the oil. This is typically the case of the lower priced oils on the market. Other important factors include location and harvesting methods."
One of Kahina's three Morocco-inspired soaps (Christmas stocking filler alert!?)
While the men can be involved in harvesting argan nuts, it's the women that do the incredibly laborious job of extracting the oil by hand.  Katharine adds that it's essential to recognize that it is most often the women who do the hard work of extracting the argan oil who are undercut in the market for low-priced argan oil. She says it's crucial that these women receive a fair wage for their labor in order to make the money they need to survive and support their families in a region where work opportunities are very limited.
Katherine in Asia Spa mag
Katharine regularly visits  every cooperative that supplies our oil. This ensures top quality oil from top quality nuts and also the fair treatment and compensation of the women workers.
You can follow Katharine's travels and magical scent stories and keep up with Kahina on Twitter @Kahina1
INSTAGRAM: @Kahinagivingbeauty
KAHINA GIVING BEAUTY
You can find KAHINA in the UK at specially selected retailers including Content Beauty in London and online at
(Check out the gift sets and soaps!)